Robert Lamar is the premier Master Sharpener in North Carolina. He is certified by the majority of scissor manufacturers and is setting the standard for professional whetstone sharpeners.
It started back on Uncle Fuzzy's porch with a pedal grinding wheel, and now we specialize in shears, knives, blades and anything with a sharp edge. Now, With a combined 20 years of experience and education,  along with memberships of the National Beauty Tool Sharpeners guild and National BladeSmith Associates, I have become a Master Sharpener and Bladesmith.
As our company has grown, we  have fine-tuned our skills to perfect our sharpening craft on traditional whetstones. Our commitment to our customers is total satisfaction. We continue to guarantee our work by backing up our skills with a lifetime warranty and continue to  further our education and understanding of our industry while preserving our heritage in hand sharpening.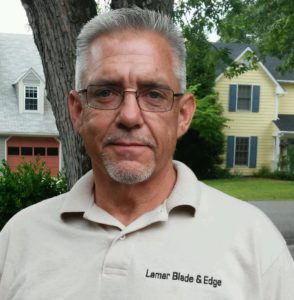 I look at this business as an extension of ministry. Every blade I sharpen is prayed over so that the one using it can bless someone else with their skills. Thank you for giving me the privilege to sharpen your tools.

Robert Lamar, Owner

Vigilant Hope is a non-profit Christian ministry to the homeless in Wilmington, NC. We believe in the work they do and offer our services at no cost when needed. Click here to see their website.